Blaine Wetland Sanctuary Walking Tour
Thursday, September 28, 2023
–
Blaine Wetland Sanctuary, 11980 Lexington Ave, NE Blaine, MN 55449
---
Rebecca Haug from WSB will be leading a walking tour of the Blaine Wetland Sanctuary. Rebecca worked on many projects within the Blaine Wetland Sanctuary while she was employed at the City of Blaine as their Water Resources Manager. She'll be discussing various topics about the wetland and sharing her insights and knowledge with us as we walk along the boardwalk.
When: September 28th at 5:30PM to 7PM
At: 11980 Lexington Ave NE Blaine, MN 55449. Parking lot available. Meet at entrance of boardwalk. Look for RCWD staff.
Bring: walking shoes, camera for pictures, bug spray, sunscreen, water, and questions for Rebecca
Topics: wetland restoration, water quality and flood control benefits, how wetlands are part of watershed management, and more!
FREE and open to everyone!
No registration required, just show up in the parking lot at the start of the trail.
If inclement weather occurs, event will be canceled and rescheduled for next year.
Contact
If you have questions about this event, please contact: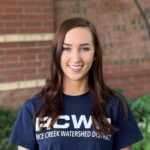 Kendra Sommerfeld
Communications and Outreach Coordinator