Privacy Policy
The Rice Creek Watershed District (RCWD) is committed to protecting the privacy of those accessing the Website (www.ricecreek.org). The purpose of this policy is to inform you of how the Website collects and uses your personally identifiable information.
Types of Data Collected
Personal Data
While using the Website, you may see and/or use services or forms that ask for contact and/or demographic information (address, etc.). By using the Website, you agree to the collection and use of the information you provide in accordance with this Privacy Policy.
Usage Data
Some Usage Data are collected automatically when using the Website to help us improve the service and performance of the page. Usage Data may include information such as IP address, browser type, browser version, the pages of our Website that you visit, and the time and date of your visit. When you access the Website by or through a mobile device, we may collect certain information automatically including, but not limited to, the type of mobile device you use, the IP address of your mobile device, your mobile operating system, and the type of mobile Internet browser you use.
Tracking Technologies and Cookies
We use cookies and similar tracking technologies to track the activity on our Website and store certain information.
You can instruct your browser to refuse all cookies or to indicate when a "cookie" is being sent.
In some web browsers you can disable cookies or create a per-domain policy (e.g., allow cookies from some websites but block for others).
You can delete individual or all cookies from some browsers. Additional details on how to delete cookies from specific browsers: Chrome, Edge, Internet Explorer.
If you do not accept cookies, you may not be able to use some parts of our Website.
Use and Disclosure of Your Personal Data
RCWD does not sell, rent, or lease any personal information to third parties.
RCWD will maintain and use Personal Data in accordance with the Minnesota Data Practices Act, Minnesota Statutes chapter 13. RCWD may use Personal Data for the following purposes:
To provide and maintain our Website, including monitoring the usage of our Service.
To contact you, by email, telephone, or another equivalent form of electronic communication.
To attend to and manage your requests to us.
For other internal purposes, such as data analysis, identifying usage trends, determining the effectiveness of our promotional campaigns, and evaluating and improving our Website, products, services, marketing, and your experience.
RCWD may disclose your Personal Data in the following circumstances:
If we are required to do so by law.
To protect or defend RCWD legal rights.
To prevent or investigate possible wrongdoing in connection with the Service.
To protect the safety of Users of the Service or the public.
Detailed Information on the Processing of Your Personal Data
We may use third-party service providers to monitor and analyze the use of our Service.
Google Analytics
Google Analytics is a web analytics service offered by Google that tracks and reports website traffic. Google uses the data collected to track and monitor the use of our Service.
You can opt out of making your activity on the Service available to Google Analytics by installing the Google Analytics opt-out browser add-on. The add-on prevents the Google Analytics JavaScript (ga.js, analytics.js and dc.js) from sharing information with Google Analytics about visits activity.
Links to Other Websites
Our Service may contain links to third-party websites or services that are not owned or controlled by RCWD. RCWD has no control over and assumes no responsibility for the content, privacy policies, or practices of any third-party web site or service. You acknowledge and agree that RCWD is not responsible or liable, directly or indirectly, for any damage or loss caused or alleged to be caused by or in connection with the use of or reliance on any such content, goods or services available on or through any such web site or service.
RCWD strongly advises you to read the terms and conditions and privacy policies of any third-party website or service that you visit.
Security of Your Personal Data
The security of your Personal Data is important to RCWD. Remember that no method of transmission over the Internet, or method of electronic storage, is 100% secure. RCWD cannot guarantee its absolute security.
Changes to this Privacy Policy
RCWD may update our Website Privacy Policy. We will notify you of any changes by posting them on this page. We will update the "Last updated" date at the top of this Privacy Policy. You are advised to review this Privacy Policy periodically for any changes.
Contact
If you have any questions about these policies, please use the contact information below.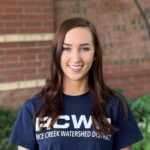 Kendra Sommerfeld
Communications and Outreach Coordinator